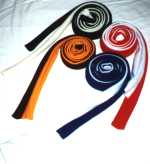 Mane rolls are made out of a double knit type fabric which is very easy to work with and care for. It can be made all one color or two colors They are machine washable in cold water and they are color fast. We have two sizes available: narrow and wide.

Colors Available: Red, White, Royal Blue, Light Blue, Navy Blue, Black, Brown, Ivory, Green, Forrest Green, Teal, Pink, Yellow Gold, Gray, Orange, Peach, Mauve, Burgundy, Purple, Lavender, Wine. Other Colors are Available Upon Request.

We now have shiny sparkle sequin material for mane rolls. This is a real eye catcher for our horse. Call for availability and prices!

Which is best for me, narrow or wide style?
Wide mane rolls are used mostly when you really want your colors to stand out, as they make a larger finished roll on the horse. Narrow mane rolls are used for halter or when you want the horse to just have an accent of color, to show off your horse, not the decoration.