Tail Tie #1 - Double Knit
$8.50 ea

Made out of the same double knit fabric fabric as mane rolls, so very easy to care for. Looks like two bows, one larger bow on the top and one a little smaller on the bottom of the tied tail. Usually one or two colors when made up. They are held with elastic, specifically white or black to blend with horse's tail. Machine washable in cold water and are color fast.

We now have shiny sparkle sequin material for tail ties. This is a real eye catcher for your horse. Call for availability and prices!
Tail Tie #2 - Satin Ribbon
$5.00 ea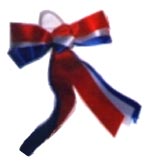 Made out of satin ribbons and look like a large tied type of bow with streamers. It is held onto the tied tail with elastic also. Can be made all one color, two colors, or even three colors.

Tail Tie #3 - Double Knit with Velcro (tm)
$9.50 ea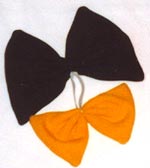 The same as tail tie #1, except that this one has a Velcro adjustable closure to fit any size of horses tail. Specify color of Velcro: white or black.

Tail Tie #4 - Double Bow Tail Ties
$13.50 ea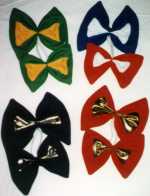 Made of of double knit fabric, these tail ties have a center in the in the fabric bows. This gives you the effect of four bows on the tail: one inside the other on the top and bottom. These washable double bow tail ties are made of dependable double-knit fabric with an additional double-knit or metallic (silver or gold) center.
Barrette Tail Ties
Large-$8.00 · Medium-$6.50 · Small-$5.00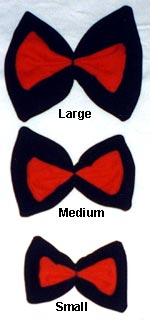 We can put all styles of tail bows on barrettes, with 3 sizes for different effects on the tail!

---